We offer a range of  pre-terminated copper systems from a variety of Manufacturers.  Allowing installers to concentrate on other aspects of their projects Pre-Term solutions save you considerable time and effort. The advantages of a preassembled system cable includes reduced assembly costs, reduced installation time, the elimination of assembly mistakes and consistent high quality product tested and verified for installation.
Available in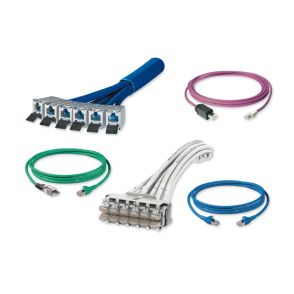 Category 8/7/7a (2000mhz)
Category 6A, (500mhz)
Category 6 (250mhz)
Category 5e (100mhz)
Available in  Corning, Hellermanntyton, CNET  or a manufacture of your choice just free issue us the kit and we will take care of the rest.
12-port, 6-port and 4-port cassettes.
Keystone Modules to Keystone Modules
Keystone Modules to RJ45 Plugs
Keystone Modules to open ended Copper pairs.
Patch panel to Patch Panel terminations.
Patch panel to Data boxes
And many more configurations (Just call us to discuss we can do it)
Pre-terminated copper solutions offer the installer or end user a great deal of choice and flexibility saving lot's of labour time and money.